Boston Store, why must you crush my spirit and will to live?
I have been on the lookout for a cute summery dress. Preferably something casual, that I could wear out to the movies, or a picnic; but something that I could wear out to a nice dinner or a show would work too.
In losing 20 pounds, I feel like things are finally fitting me better. But better doesn't always mean it looks good. I spent my lunch break at Boston Store searching the clearance racks for something. Anything. A nice pair of summery pants, a pretty shirt I could wear to work, THAT dress I've been searching for.
I marathon shopped all the Yellow-Dot racks I could find. I became annoyed at shirts that looked cute on the hanger but made me look like a clown. I got frustrated at seeing shapeless dresses that I knew would make me look like a frumpy cow. Or pregnant. Just as maddening was finding something potentially cute in the "L-XL" sections, and seeing it was actually a size 6. WHY?! I cried out to the gods.
I think I am in between sizes or something. The jeans I'm currently wearing are a 16. They've got stretch in them, but they are loose on me. I tried on a couple pairs of pants that were a 16 and were too tight. I could button them, but it was not cute. 16!!! I feel like I should be able to fit into that by now. It's my darn hips. I am NOT shopping in plus size. Even size 14 that I've tried on at Lane Bryant before is not right on me. It's cut all wrong. Anything plus size that I've ever tried has made me look bigger than I am. Maybe another 10 pounds will do it…
Anyway, I made my way to the dress area. The place where I have spent many minutes drooling over the bright and beautiful summer dresses. Kind of like some of these. If you've entered Boston Store at Brookfield Square through the mall entrance, you might have seen the dresses I'm talking about. Popsicle colors!
I found a few dresses that were OKAY on the Yellow-Dot racks. There is so much BLACK in the 14-16 size range. And so much empire waist. Sometimes that works out. But lately I'm finding that it just makes me look pregnant. And that's not really what I'm going for. I blame the boobs. Anything that hangs off my boobs serves to make me look bigger, NOT "hide my stomach and hips/thighs" like the magazines say.
Then, there among the mediocrity, I saw THIS: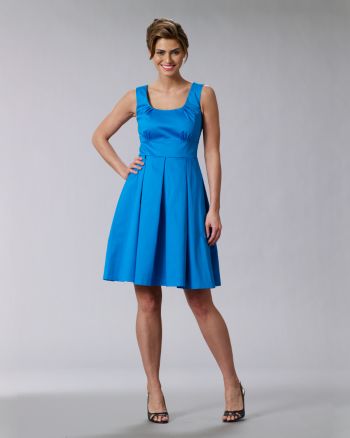 One of the very dresses I had yearned for in the prior weeks. I checked the size. 14! I grabbed the tag and looked for the yellow dot and reduced price. There was none. Maybe they didn't mark this one?? I knew in my heart that wasn't true, but I grabbed it off the rack to try it on.
I saved it for the very end, after I had tossed all the sub-par and ill-fitted dresses aside. Then I slipped this beauty over my head. I am not vain and I have a very critical view of myself, but HOT DAMN!!! If I didn't know any better, I'd say I looked better in it than that model up there.
It was a near-perfect fit. It's a tad on the bridesmaid-y side, but I think it overcomes that. There was waist definition, and just enough of a skirt to give me that 50's/Stepford Wives look that I love. And yet, the cut was modern and, dare I say, slimming. It just felt good.
I fell in love and died a little right there, knowing it could not ACTUALLY be 60%+ off. And yet, I had hope that it might my lucky day. I hung out in it for a few minutes, grabbing my camera to snap some pictures. Trust me, if I had my cord, I'd have uploaded them to my work computer and be posting them right now.
I checked the time and reluctantly unzipped myself. I looked at the tag again. $128.00. No yellow marking. I took it up to the woman at the register. My face must have told her that I was in turmoil and asked if I needed a price checked. I said yes and said I found the dress on the clearance rack as she told me she thought that it was full price.
She scanned it. It was on sale. For $99.99. I couldn't bear to turn away from it, though, and so I asked her to put it on hold. You know, in case I find a hundred dollar bill on the ground. She was super nice and told me she'd try to hold it until store close tomorrow. I thanked her, then turned and walked away.
I can't afford it. Even with my mom's employee discount, it would be $75. I mean, technically, yes, I can afford that, but that money should go towards other monthly expenses. But I have until tomorrow to wonder what I can go without in the next two weeks in order to have that gorgeous dress.
Sigh.
So that was my over-dramatized lunch hour. But really, it's pretty!!